Emotional Response in Hotel Advertisements
A Report by G&R based on fEMG
Brands Included in Report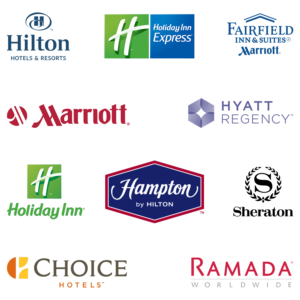 Information Objectives
Learn how hotel advertising compares to competitive commercials in terms of emotional activation.
See how differences in emotional response contribute to the traditional key performance indicators, of recall, persuasion, and ad liking.
Understand how emotional responses to category advertising varies in response to key advertising elements, such as narrative styles, visual elements, branding, and messaging.
Discover how fEMG and the measurement of emotional valence can help teams improve advertising performance.
Research Design


29 category users (48% male, 52% female) ages 25-54, were recruited in central NJ, and screened through a pre-exposure survey. Qualified respondents were invited to a central location for a one-on-one session and connected to neurophysiological equipment using non-invasive sensors. After recording baseline measures, respondents were shown 10 hotel commercials (rotated). Neuro-physiological responses were automatically recorded during the viewing. Following exposure, respondents take computer-assisted survey about the ads they remember, as well as attitudinal, behavioral, and demographic classification questions.
Commercials Tested

Key Measures
Second-by-second measures of positive and negative activation, based on Facial Electromyography (fEMG), the gold standard for measuring emotional valence.
Survey-based diagnostic measures of Recall, Persuasion, and Liking
Deliverables:
Executive summary and analysis of key overall and commercial-specific findings in MSWord
Video Displays: Dynamic, second-by-second response to each commercial overlaid with the commercial
Panograms: Static traces of positive and negative response for each commercial with call-outs of key scenes
Optional Skype or In-office work session/presentation of results.
Costs:
Complete study as described above (all ten commercials): $6,500
Individual commercials only (video display, panogram and commercial-specific key findings): $3,000 per commercial
Work sessions:

Skype: $1,000
On-site: $2,000, plus travel

Special analyses are available for an upcharge on a time and material basis
How to Order
Contact Scott Purvis at (609) 730-1550 x118 or scott.purvis@gandrllc.com
or Stefanie Dursin at (609) 730-1550 x119 or stefanie.dursin@gandrllc.com