In a new study of bank advertising, G&R found that the Wells Fargo scandal touched not only how people process messaging from Wells Fargo, but it also influenced how they responded to advertising from other banks as well. Not only were people who were aware of the Wells Fargo scandal 53% less emotionally engaged when watching a Wells Fargo commercial than those who were not, but they were 30% less engaged when watching 9 other bank commercials.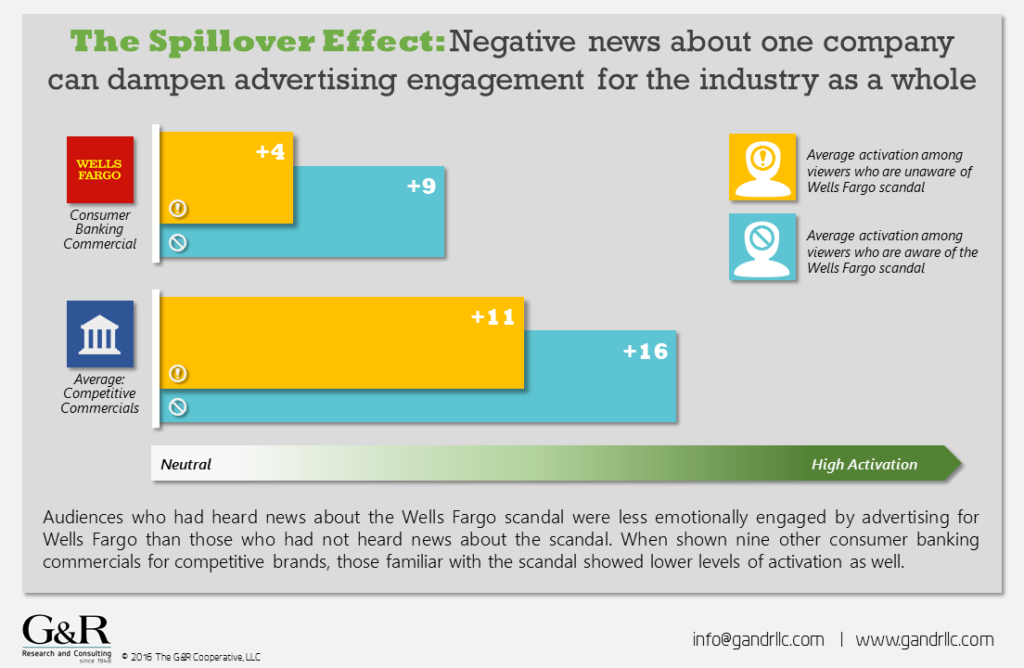 The finding is noteworthy because, although most people assume that attitudes predict behavior, the relationship between the two is quite murky. In fact, it is more accurate to say that broad attitudes do not predict broad behaviors, nor often even specific ones. Attitudes and behaviors are most in-sync when the attitude is salient, the measure is specific and the behavior can be aggregated over time.
The relationship between attitudes and emotions is even less understood. What this study suggests is that attitudes can influence emotional response in both a narrow and broad sense. Attitudes about the brand created by awareness of the Wells Fargo scandal not only reduced the influence of Wells Fargo advertising, they were also associated with lower emotional involvement with other bank advertising as well. Negative attitudes about one company can influence emotional reactions for an entire category.
Depending on how generalizable the finding is (whether it is limited to the Wells Fargo context or indicative that negative attitudes about one company can influence emotional reactions for an entire category), it adds another layer of complexity to the already difficult challenge of crafting messaging that activate prospects. It is likely not be enough to create advertising messages in the context of the strengths and weaknesses of a marketer's brand. Message development should also take into account what is going on with other leading brands within the category or it could be less effective than it might otherwise be.
About the Study:
T

he findings are based on facial electromyography (fEMG), a nonverbal, neuro-physiological measure of emotional activation and the gold standard for assessing emotional valence. As people viewed a reel of commercials, continuous recordings of electrical impulses in the muscular of the face are taken. Readings of the smile muscle measure unconscious positive reaction. Readings of the brow muscle measure negative response. After exposure, questions are asked about the person's demographics, including his or her awareness of the Wells Fargo scandal.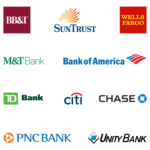 The study was conducted during the week of September 12, 2016, when the scandal was first being reported. The reel included commercials for Bank of America, BB&T, Chase, Citibank, M&T, PNC, SunTrust, TD Bank, Unity Bank, and Wells Fargo.
More information about the study and the report that is available for purchase is available here: http://www.gandrllc.com/emotional-response-bank-ads/